Selecting Custom Window Treatments
Selecting Custom Window Treatments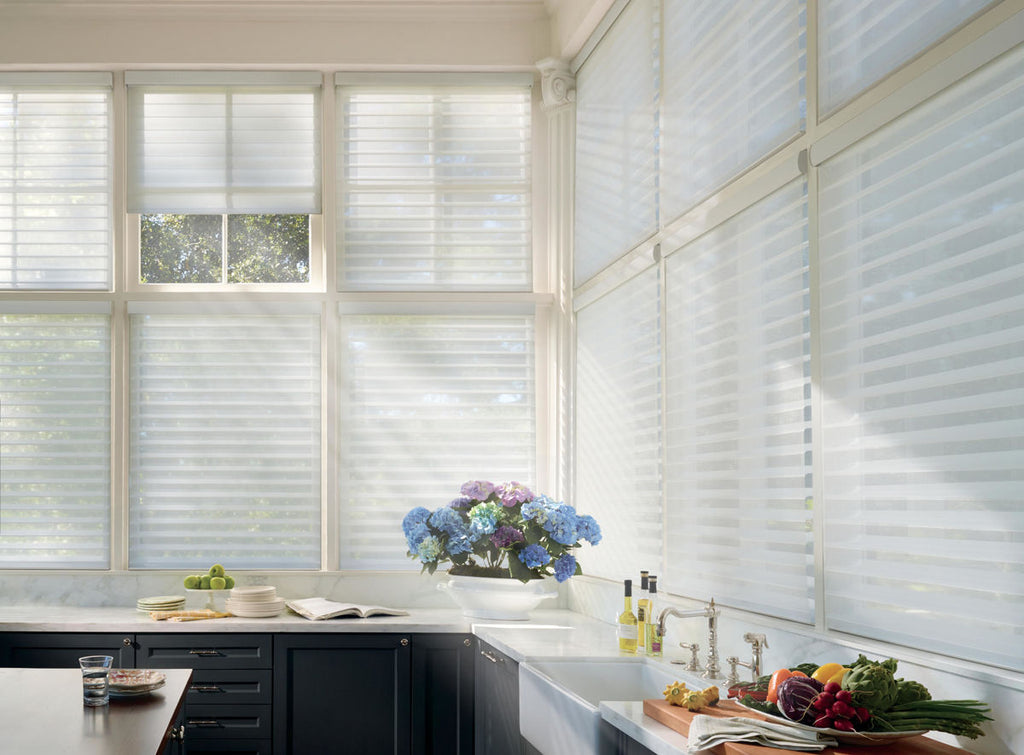 Today we're talking all about Window Treatments. Sometimes considered one of the "last minute" elements of the design process, we're diving into the importance of incorporating window coverings to your home.
We strive to make the process as simple as possible. All of our window treatment quotes and measurement appointments are complimentary. Our in-house Window Treatment Team does all of our measuring and installing. Keeping these services in-house means you have a point of contact for service and repairs.
Choosing to select and purchase your window treatments through Vineyard Decorators allows support for local business. It also means that you have a point of contact for servicing and general questions. All of our window treatments are custom ordered to fit your exact window dimensions, expertly measured and installed by our technicians.
We carry an array of name brands, such as Hunter Douglas, Horizons Window Fashions, Hartmann & Forbes and Conrad. We also can manufacture drapery and roman shades in our workroom. Our Design Consultants are always happy to discuss products selections during a complimentary in-store appointment.
Window Treatments may seem intimidating at first. There is no, "one size fits all" approach, and there are many different options to consider that all serve a unique purpose and function. Window treatments can block light, create privacy and make a room feel more luxurious and elevated. One important point to remember is that each room may require a different type of shade, and that's okay! Thinking about the need's in each room of your home will help determine which product is best suited for that space.
For instance, we often want more natural light in our living spaces (like the kitchen and the dining room) but less light or more light blocking options in bedrooms. These elements can be addressed with stylistic choices, either by the product itself or customizing a product with design elements like lining. Layering different products can also help you achieve your aesthetic goals while offering differing levels of light filtration for the ultimate feeling of luxury.
source: Studio McGee
Thinking about the user and function of the room are major considerations when selecting window treatments. However, privacy and safety are paramount when choosing window coverings for rental homes,  homes with pets and especially, homes with children. Whether a bedroom, playroom, or nursery, rooms designed for children can pose their own set of design challenges. Let our experienced design consultants help you navigate user-friendly functionality.  When considering kids' room window treatment options, prioritize safety, ease of maintenance, and light-filtering capabilities. Hunter Douglas offers a wide range of operating systems with child safety in mind. Cordless operated shades are our recommendation for areas used by children or homes with pets. 
From control wands, to cordless to motorized options, we can help you select window treatments that integrate perfectly into your life. Hunter Douglas is just one of companies that offer power-operated systems for their products, allowing you to control your shades at the touch of a button or even from an app on your phone.
You can program individual shades or an entire room. With total control, you can open and close the shades at specific times of day, setting the scene for comfort as the light changes. One of our pro-tips is to decide on power-operated window treatments during the construction phase when possible. 
Check out some of our favorite products this season: 
Woven Woods
We love the organic elegance of a natural product and how the weave is "perfectly imperfect." The variation in tone of the natural fibers add warmth to any room.
Just like with our furniture store, we offer  "good, better, best" options for woven wood window coverings from manufactured products to handwoven ones. This type of window covering tends to let in a bit more light, so for a more opaque and privacy-friendly option, we recommend the addition of a fabric liner. Woven wood shades look beautiful on their own or layered underneath one of our other product favorites, custom drapery.
Custom Drapery
Drapery is beautiful on its own or layered on top of another product. Simple and sophisticated panels of fabric create a warm and inviting feeling to a room.  
Mounting the hardware closer to the ceiling above the window can make the room feel larger by adding a sense of height
 Roller Shades
Roller shades are a modern and often,economic, choice in window coverings. Available in various levels of opacity, roller shades are a contemporary, clean covering choice. In addition to controlling the light in a room, they can also help protect against harmful UV rays. 
Your complimentary in-store appointment with your Design Consultant will allow them the opportunity to suggest window treatment options that are safe, effective and beautiful. We can work with you to determine the product that best meets your design and function needs.  When you have the right custom window treatments made to fit your windows just right, you are left with an elevated, cohesive feel, often harder to replicate with a pre-made product.