Design Department Updates: Entertaining All Year Round
Design Department Updates: Entertaining All Year Round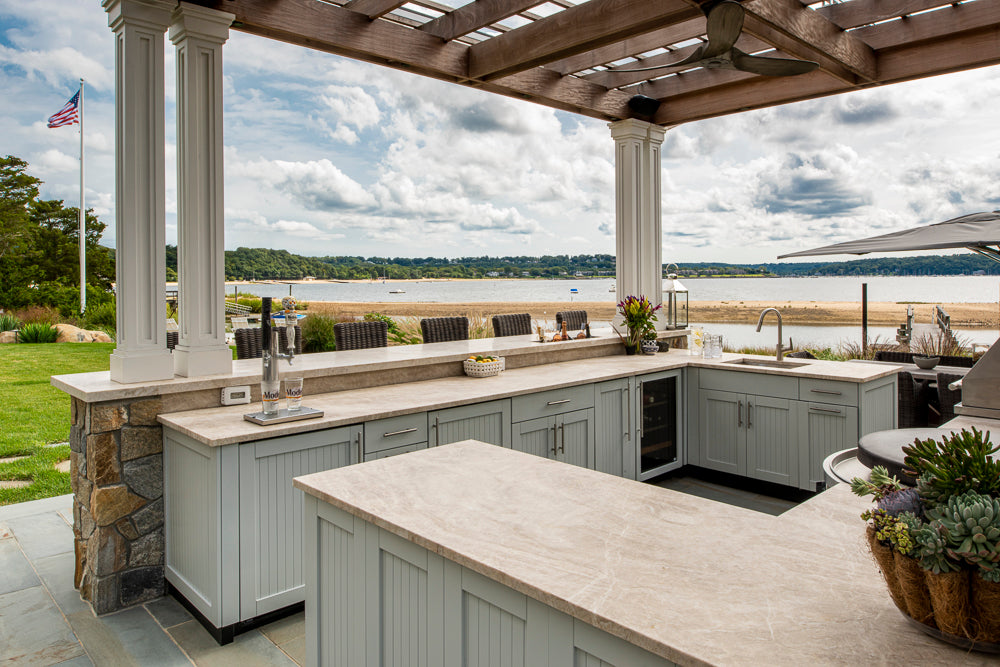 The months we spent experimenting with recipes gave way to honing our green thumb in the garden. Then we turned our attention to our outdoor spaces for safe, socially distant fun. Our home improvement wheels are still churning away and now we're setting our sights on other ways to continue to curate our home oases for optimal enjoyment this year. 
Our Interior Design Department is currently working on a few projects that we are excited to share with you. Since many are spending more time at their Vineyard residences, it's important now more than ever that your home is ready for you to design your island life, however that looks. In addition to furniture planning and layout, our Interior Design Department also offers interior finish selection and interior architecture services. We can also work with your contractor and architect on new build construction.The department is also happy to take on interior remodeling projects from bathrooms to interior kitchens.
We're going to give you a glimpse into a few of the projects we're working on now — an exterior kitchen project, an interior kitchen and bath renovation, as well as a basement wet bar. 
*Note: All photos are either rough design sketches or inspirational photos we've shared with our clients in presentations.
DESIGNING AN OUTDOOR KITCHEN IN KATAMA
Dining al fresco is one of our favorite ways to enjoy a meal, and now, one of the safer ways. One of our projects is taking al fresco dining to the next level. Imagine being able to create a bespoke dining experience right in your backyard, preparing, cooking, and even cleaning up after the meal all outside. 
Enter the outdoor kitchen. 
The indoor-outdoor trend is not new in the world of design. Incorporating performance elements into different areas of the home allows for a life lived freely, fluidly, and without worry. Now that we're spending more time at home and outdoors, we find ourselves wanting that same fluidity in our exterior spaces.
Our Katama clients have been considering ways to expand the function of their outdoor space after moving in. They have been enjoying the pool and outdoor lounge area this summer, but were looking for something to take their oasis to the next level.
We are working closely with their landscape architect on the plans to implement a full-scale outdoor dining experience, equipped with a refrigerator, ice machine, grill, side burners, and a smoker. We specced powder-coated stainless steel cabinetry from Brown Jordan Outdoor Kitchens. The powder coat finish protects the stainless steel from rain, snow and salt air, making it a great choice for Vineyard homes. The cabinets are customizable, from the style of the door to the color of the hardware. 
Since outdoor spaces are a continuation of the interiors, our Interior Design Department wanted to be sure that the theme of their interior kitchen was carried over to the exterior to ensure the whole home had a cohesive feel. Much of the interior was done in a fairly traditional style, which we've updated with the addition of modern and minimalistic elements. The interior kitchen features white, shaker-style cabinets, which we are carrying over to the exterior kitchen. 
INTERIOR KITCHEN RENOVATION
The kitchen is the heart of the home, whether inside or out. Our Interior Design Department is also working on an interior kitchen renovation in partnership with Martha's Vineyard Construction. 
As entertainers and musicians, our West Tisbury clients were looking for a way to maximize use of their first-level kitchen and dining area. As a post and beam house, opportunities for structural updates were limited; however, design and renovations don't have to be extensive to be impactful. By removing one wall, the room opened up,  allowing room for the custom dining banquette, a functional way to have the dining area set back from the front of the room, thus giving the clients more space to house their instruments and perform. Our on-site custom workroom is fabricating the dining nook cushion as well as a french cushion on the window seat. The clients love slow mornings with coffee and each others' company spent on a large window seat, overflowing with natural light. 
New French doors will also be installed opposite the dining nook. They will open up out to the terrace, flooding the kitchen with natural light, which will also help the space feel larger.  
We wanted to capture the rustic nature of this post and beam build by incorporating natural elements like wood finish cabinets and soapstone countertops. Soapstone is non-porous and naturally antimicrobial, a beautiful and functional choice for a working kitchen. 
These clients love cooking meals together in their kitchen. They know that sometimes creating an epic meal requires an epic mess, and they opted for a pedal-operated sink to allow for efficient, sanitary, and easy cleaning. Modern elements like engineered wood floors allow for the look of hardwood with the ability to incorporate radiant heating systems for ultimate comfort. We love designing spaces that are beautifully suited to be enjoyed year-round. 
THE ANYTHING BUT BASIC BASEMENT 
Though it seems far off, as the weather begins to cool, you'll want to be sure that your interior spaces are ready for you to enjoy them to the fullest. Our Interior Design Department is also working on a basement renovation, which features custom built-ins, a custom-designed wet bar, a shuffleboard, and a ping pong table. Part of effective and beautiful design is optimizing the space that you have and giving it intent and purpose, all while being aesthetically pleasing. 
Referred to us by Alyssa Dubin of Wallace Real Estate, these clients love to entertain and wanted beautiful, yet functional spaces in which to do so. The basement renovation will allow for this family to entertain all year round. 
The bar area features high seating, functional storage, and a sub zero fridge that keeps both red and white wine temperature-controlled. This multipurpose fridge is a space efficient alternative for a full wine cellar or wine room, leaving more space in the room for the lounge area and bar seating. The color pallet is a modern mix of navy cabinetry with gold hardware.  The room features a reclaimed hardwood shuffleboard table as well as a ping pong table, creating fun for all ages.
GET STARTED!

It's never too soon to start thinking about home improvements. Our one piece of advice is to start working on these larger scale projects in advance to allow time for the necessary renovations and planning. Give us a call at 508/693/9197 to discuss your interior or exterior needs. All of these projects are still in the conceptual and planning phase. We are eager to continue sharing the details with you along the way, and can't wait to share the finished products. Follow us on Instagram to keep up to date on these and our other projects.