A Tour of Our Cove Road Project
A Tour of Our Cove Road Project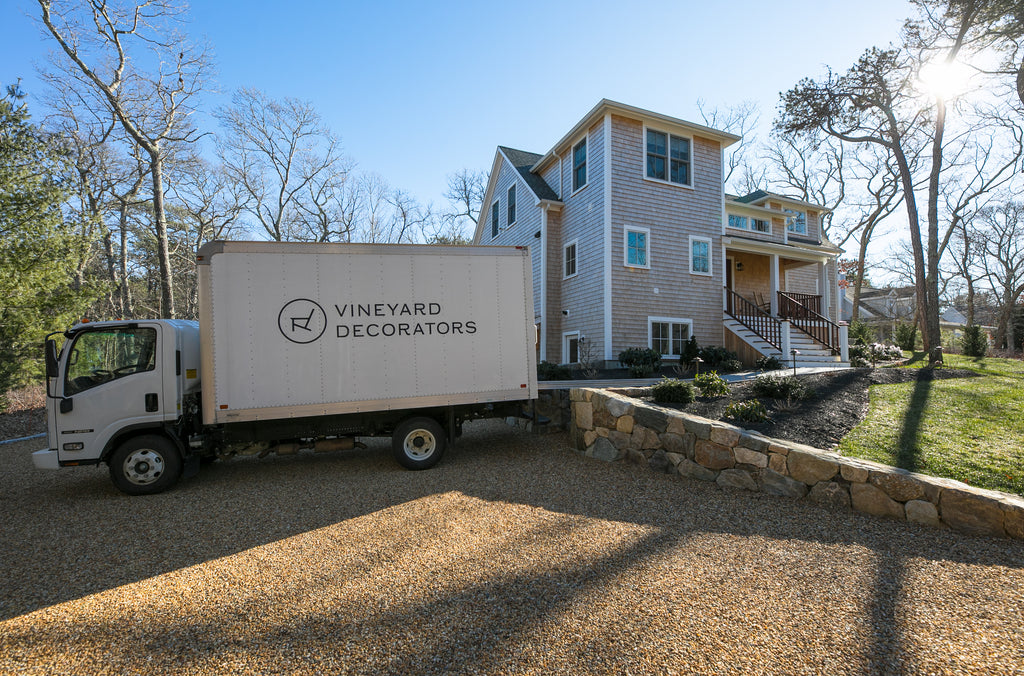 This week we're revisiting one of our favorite projects, Cove Road. We worked closely with Meg Bodner of Tea Lane Associates to furnish the entire house over the course of a weekend. Cove Road is a stunning new build by Ray Bilodeau. The homeowner, an international client, relied heavily on Meg to assist with the furnishing of the house; and Meg was certainly up to the task. Our design team was able to create a cohesive, casual and coastal feel throughout the 4-bedroom home, all from stock furniture and all in 72 hours. Photography by Josh Robinson-White of Vineyard Lights Photography. 
Our spacious showroom and storage facility allow us to both display and warehouse backstock furniture. We are capable of furnishing entire houses from our stocking furniture, and we do so dozens of times throughout the year. 
With our White Glove Delivery Services, installation can be a breeze. All items are fully inspected and prepared by our team at our facility before installation. Keeping these services in-house minimizes opportunity for damage during the handling process. For those who are attempting to furnish a home remotely, or those with hectic schedules, we take care of the logistics of getting your furniture to the Vineyard. 
Utilizing our curated stocking programs, we were able to achieve the client's vision of a coastal inspired home. We used a mix of high and low price points throughout, selecting pieces that would be functional and suited for renting (as the home was purchased as an income property), but still offer the comfort and quality of a more high end project (since the owners use the house a few weeks out of the year).  The elements of our stocking program offer a neutral base on which to build, allowing you to design your island life. 
The main floor seating area features pieces from Four Seasons Furniture. Made in America, Four Seasons is a quality line of furniture that specializes in slipcovers. These pieces are slipcovered in eco-friendly fabrics that are an alternative to traditional performance fabrics. For those who aren't looking for a treated fabric, washable slipcovers (like cotton)  are an environmentally friendly option still suited for rentals or high traffic seating areas.  
We're obsessed with the way this sunroom turned out. The color pallet is bright and airy while still being durable, thanks to these performance materials. The seating area features a collection from Kingsley Bate, made of an all-weather rope that has the natural look of authentic hemp, while still being resistant to fading or tearing. The cushions are Sunbrella (also resistant to mold, mildew and fading), which makes them the perfect choice for a 3-season porch with a lot of natural light.
You can shop this collection and others from Kingsley Bate here - sidenote, our Outdoor Oasis Sale is still happening now.
The rug, from Dash & Albert, is constructed of polypropylene, a performance material that can stand up against sandy feet, muddy paws and a hearty meal. 
In addition to name-brand furniture lines, we also carry our own line of furniture, manufactured and sourced abroad by our parent company, Island Imports. From outdoor and indoor furniture to decor, we bring in items from our factories in Indonesia, India and China at a competitive price point. Island Imports also distributes wholesale to retailers across the country. Shopping for these items in our store is like a treasure hunt. We have rows and rows of unique pieces in our showroom, you never know what you'll find. Similar to an antique or vintage market, like Brimfield, the pieces are one-of-a-kind, and a wonderful way to add character to any room of your home. 
This ladder is one of our imported items. We love functional decor, and this ladder is perfect for these Turkish hand towels. Our competitors sell items like this for up to $400, ours retails for under $100.
We also featured items from Island Imports in the entry way. The console and the baskets are part of our line.
The rug is also imported by us, an authentic, vintage, hand-knotted beauty, imported from Turkey.


The "boy's hangout" room was intended to be a more casual seating area, where as upstairs was a bit more formal. This room is all about relaxation. These oversized chairs swivel around, so they can face the TV or the sectional, and glide back and forth. We love the addition of the surfboard coffee table.
This oversized sectional by LEE Industries is the ultimate lounge spot. Again, we chose a washable slipcover here, so the sectional is easy to clean (a must for a rental property) and it also feels and looks a bit more casual. These vintage textile pillows will be available in our store, Spring 2020.
The bedrooms coordinated the custom window coverings to the stitch of the linens, a request by the client for an easy turnover. We offer an array of window treatments from companies like Hunter Douglas, and we can also fabricate window coverings in our workroom. In case you didn't already know, we also offer complimentary measurement appointments and estimates on all window treatments. We chose a simple linen for each of the rooms for a clean, casual aesthetic.
In addition to fabricating custom window treatments, we also have an on-site workroom that recovers existing and constructs new furniture. These headboards were custom made in our workroom in a neutral fabric complimentary to the window treatments and bedding.
Headboards can be an economic way to furnish a bedroom, especially in an income property. When paired with a tailored bedskirt (like the one pictured here), you still get the polished end result without having a more traditional platform bed. Headboards tend to occupy less space in the room, so we often suggest them for spaces with tighter size constraints.
This is not your grandmother's bedskirt. Gone are the days where a bedskirt meant ruffles and frills (thankfully, might we add). We chose a lightweight, tailored, linen option for these bedrooms to give a more elevated look, while still staying within the client's budget.
The final step was to accessorize. We chose coastal accents to tie the home together, again, using a mix of high and low to achieve the right look while still remaining in budget
We love a good #shelfie moment. This was the perfect place to highlight an original piece of artwork by local artist, Dan VanLandingham. 
Supporting the local community is a huge part of our business and we carry local artists work throughout our showroom.
In addition to original pieces, we also have a number of reproductions and prints available. Prints are a great way to still display local art in your home, but get it at an affordable price point.
Furnishing an entire house may seem like a daunting task, but it doesn't have to be. We have the unique ability to furnish entire houses from in-stock furniture and with immediate delivery. We are also firm believers that elevated design doesn't have to come at an elevated price point. Our showroom features pieces that cater to almost any design aesthetic, and our skilled team of Design Consultants will gladly help you put together a space that blends form and function.
This spring has certainly looked different than any other we can remember, but don't let the current situation get in the way of creating a home that serves as a backdrop for beautiful memories.
Let us help you Design Your Island Life.