Preparing for a Safe & Social Summer
Preparing for a Safe & Social Summer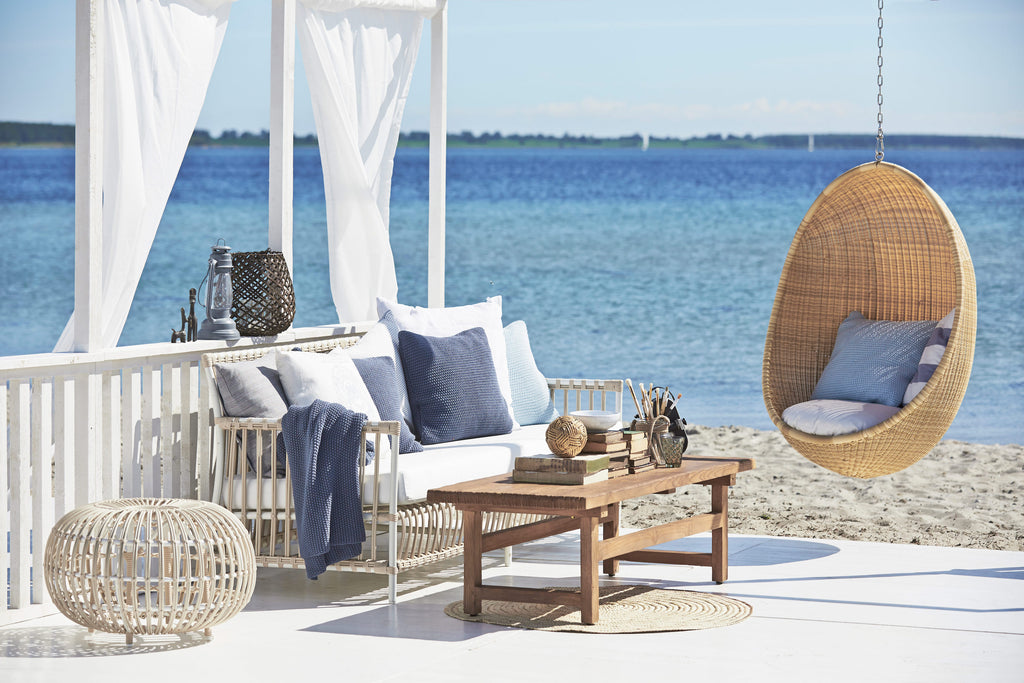 Creating memorable moments isn't just about where you are, but who you create them with. As the summer of social-distancing approaches, we are focusing on helping you create your at-home oasis. Bringing thoughtful details to your everyday is part of what makes life beautiful. While we love a summer day spent on the harbor or in the middle of the Vineyard hustle and bustle, this year we're putting in some extra effort to our backyards for a summer of safe fun.
The first step to creating the outdoor oasis of your dreams is identifying your outdoor style. Are you relaxed and laid back, do you like an eclectic mix of materials and patterns? Or do you like a more formal, matched look? By layering outdoor rugs, pillows and accessories to your outdoor space, you can bring your outdoor space to life. There's no reason that your exteriors can't be every bit as comfortable and stylish as your interiors.
Dash & Albert is one of our go-to resources for outdoor rugs and pillows. Their polypropylene rugs are durable and made to withstand sunscreened feet, sandy paws and potlucks. Laying down a rug under a dining or lounge area anchors the furniture on and around it. 
Dash & Albert's line of outdoor throw pillows are an easy way to introduce color and pattern to your outdoor oasis. Luckily, they also happen to coordinate flawlessly with their rugs. You can curate a collection of complementary colors.
Or a single hue can act as inspiration and you can break it up with natural elements and textures.
Just like in our interior designs, accessorizing our exteriors isn't just about the pillows and rugs. It's also about objects that highlight your personality and add a little extra something to the "room". For our exteriors, we love selecting functional accessories. 
We love this little bluetooth radio from SALTE in Edgartown. They are one of our go-to resources for curated home accents and personal accessories.
We love the vintage inspired design of this speaker, and the best part is that it's splash proof - pool party anyone? You can purchase this radio on SALTE's website here
Outdoor grills may not be top of mind when you're thinking of accessorizing, but if you're trying to up your patio game this summer, you may want to consider adding one. Nothing says summer like local, fresh grilled veggies, and Crane Appliance in Vineyard Haven has got you covered with a large selection of gas, charcoal and electric grills. 
And no grilled meal is complete without seasoning. LeRoux at Home in Vineyard Haven is our marinating mecca. Their selection of oils and vinegars, not to mention their spices and rubs, can make a grill master out of anyone. Shop their selection here and read their tasting notes.  
If you swap a beach day for a backyard afternoon, an umbrella is a necessity for your backdoor oasis. It will protect you and your loved ones from harmful UV rays and allow you to enjoy your outdoor space throughout the entire day. From stationary parasols to cantilevers, we have you covered. 
As the daylight fades, having appropriate lighting in your outdoor space is integral to keep the party going. Lanterns are a great way to provide ambient lighting at dinner or for an evening cocktail hour. During the day, they are another element of texture that adds depth and style to our outdoor spaces.
There's something about a yard party that invokes the smells and sounds of a crackling fire. It conjures images of watching the sun fade and the sounds of chatter as the evening begins to cool.  One of our favorite structured seating areas is around the fire pit. We often place adirondack chairs around fire pits in our projects. Perfect for this summer, they keep guests at a set distance apart, they're comfortable and there is something so quintessentially summer about them.
We do our fair share of imbibing (responsibly of course) and there's something about a fresh cocktail on a summer day that makes it taste that much better. Check out this recipe for one of our favorite spring to summer cocktails.
The Julep evokes feelings of luxury since it's associated with fine clothing and the elegance that surrounds the Kentucky Derby. Whatever the occasion, this surprisingly simple cocktail is sure to please.
Mint Julep
1.5oz bourbon

.5 tsp sugar

Ice

fresh mint leaves

soda water *optional
Muddle mint leaves, sugar, and splash of water in a rocks glass or julep cup

Add bourbon, water, and fill glass with crushed ice and stir

Add a splash of soda water *optional

Garnish with fresh mint