Interior Design Studio Tour
Interior Design Studio Tour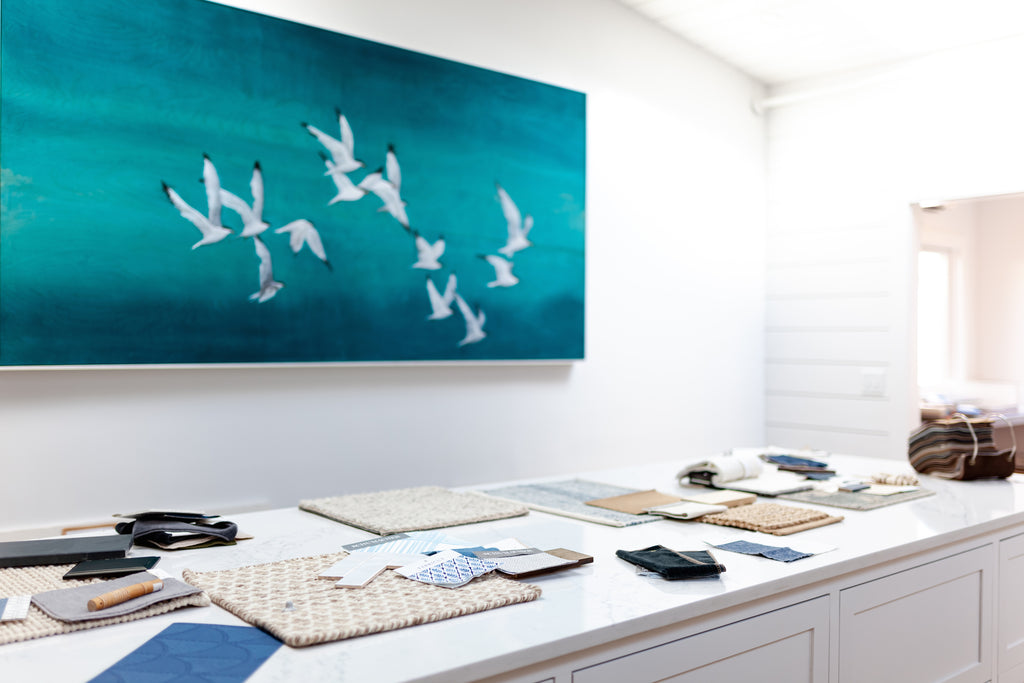 You may have seen bits and pieces of it in our stories, but we are so excited to finally (and officially) reveal our newly renovated Interior Design Studio. This space was made possible with the assistance of local businesses. Supporting the Vineyard community is an integral part of our business, and we hope that this space allows us to continue to foster the growth of our business and the business of our trade partners. 
As our Interior Design department has grown, we felt like the next step was to create a functional and beautiful space for our team to work on larger scale projects. We have also expanded our services to include Interior Architecture, allowing us to take on projects that require a bit more comprehensive renovations.
The room is built around our reclaimed teak conference table. Fully extended, this table seats 10, so not only is it a fitting spot for a presentation, it's a space large enough for our daily team meetings. The natural beauty of the reclaimed teak adds texture to the bright white, clean design of the room. We chose these black rattan arm chairs for an added element of texture and their modern appeal against the rustic teak. The rug is a hand-knotted vintage piece, imported from Turkey. Especially with a clean, bright white aesthetic, a vintage piece helps add history and character to a room.  
We've been dreaming about the perfect space to house the interior design department for the last few years. Our showroom is 2 floors and over 30,000 sqft, so there was no shortage of floor space. We tossed around seemingly every possibility until we saw the old fabric library with new eyes. The fabric library was the oldest part of the current Vineyard Decorators building.
One of our favorite parts about the renovation process is discovering and rediscovering elements of a room that make it unique. For instance, underneath the previous stick-down faux wood flooring we unearthed the existing concrete floors, which we polished to match the rest of our showroom. The result is a polished, clean and industrial feeling space that tied in perfectly to our vision for the studio. 
a snapshot during renovations, after we removed the old fabric racks.
After we exposed the concrete and removed the fabric storage racks, we were pleasantly surprised by the amount of natural light that flooded the room thanks to the existing skylights. Natural light is key when our design team is selecting fabric and finish samples, because it allows us to see the true tones of the materials. We highlighted the skylights by adding a shiplap detail on the ceiling.
For functional storage and another presentation staging space, our Interior Design Team designed this show stopping island. Both sides of the island offer discrete and organized storage for design projects and our customer files. We worked closely with JR Construction & Son's, here on the Vineyard, to bring our vision to life.
We chose quartz by LG Hausys in the color Muse for the countertop of the island. It has the perfect amount of veining, enough to provide visual interest, but not enough to compete with the samples that we lay out on top of it. Quartz is one of our favorite materials for countertops, because it's durable, sleek and nonporous. 
We paired it with another quartz faux concrete countertop, in the color Pebble: Honed, on the adjacent wall, which houses our clear mini-fridge, courtesy of Crane Appliance. We want the studio to have an element of comfort, so we keep a few beverages on hand for our client meetings. We carried the same faux concrete countertop into our fabric library. 
This cabinet is one of the only pieces from the existing space that we kept. In the old space, it was overflowing and hidden behind books and samples. We cleaned it out and opted for a stylized way to house tile and stone samples. 
The focal point of the room is an original by local artist, Colin Ruel. To say we're obsessed with his work is an understatement. We love the way the colors of this piece pop off the wall. Colin's work encapsulates the natural beauty of the Vineyard. You can find this piece and others in our showroom. We're passionate about supporting and fostering the success of the Vineyard community, and we proudly display the work of local artists throughout our showroom. 
We kept natural elements throughout the space to help provide layers of texture and visual interest. These woven baskets are from our own line of manufactured furniture from our parent company, Island Imports. Our factories produce goods abroad and we are fortunate enough to distribute domestically to our wholesale accounts across the country. We import items like these and many others on shipping containers a few times a year. These baskets keep us organized and as a bonus, they're pretty and come in multiple sizes. 
The pendants are from one of our stocking vendors, Authentic Models. They have a modern, industrial feel, which is complemented by the concrete flooring and darker accents.
One of the driving factors behind this space, other than supporting our own in-house design team, was creating a collaborative workspace for our trade partners, specifically in the design field. We have been fortunate enough to be able to assist and collaborate with other Vineyard institutions such as Studio MOS, Lake Street Studios, Hutker Architects, Squash Meadow, South Mountain and Worth & Wing (just to name a few), on their projects. We love the Vineyard community and we love that we're able to act as a resource for other local businesses. 
If you're interested in becoming one of our trade partners, email us at sales@vineyarddecorators.com 
There are still a few finishing touches needed for our design studio. Stay tuned for updates on our hardware selection and our barn door, which will go on the entrance to the fabric sample library.