Our Top Picks for Designing Your Outdoor Space
Our Top Picks for Designing Your Outdoor Space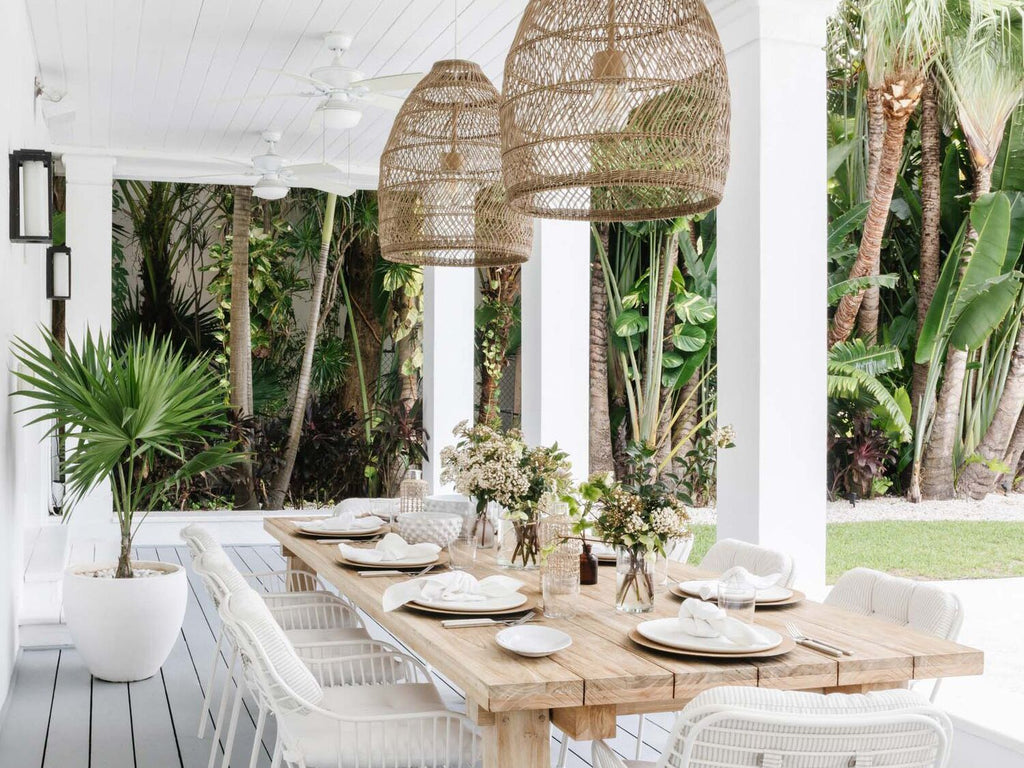 If you're lucky enough to be on Martha's Vineyard in the summer, you know that long beach days on a secluded Cape Pogue, sunsets with lobster rolls overlooking Menemsha Harbor, and bike rides to the farmer's market are soon upon us.
And as we are all eager to fill our days, to fill our days with activities and experiences that bring us out of our homes, let's not forget to indulge in the simpler pleasures warm weather can bring. 
Whether it's morning coffee on the porch conversing late into the night around the fire, or showering outdoors after an afternoon in the garden, the summer season allows us to experience so many additional comforts and joys of home.
In anticipation of the warmer months ahead, we've put together a list of our favorite summer home essentials to help you maximize your outdoor island living this season
ROCKERS
One of my favorite morning rituals in the summer is to enjoy my cup of coffee outside on the deck.  Starting the day off quietly and leisurely makes me feel like I'm on vacation while in my own backyard.  The Morning Glory Rocker is perfect for early morning lounging with its subtle sway waking you up . Plus, with an easy to wipe down frame and no cushion to absorb the morning dew,  it makes for a dry and comfy spot to enjoy while still in your Pjs.  (And they just make your porch look SO good.)
FIRE PITS
When you have company visiting or renters booked for more than a weekend, chances are they're going to want to spend a night or two in and nothing elevates time at home quite like getting a fire going- especially when you've thoughtfully curated a space for gathering around the flame. 
When designing your fire pit space, you don't necessarily need to build a custom structure. There are so many interesting free standing pits available to serve as the focal point of your space. We are currently obsessed with the sleek and minimal Fire Bowl by Gloster Furniture.
This particular bowl pairs perfectly with our newest- and more modern- wicker lounge chair.
We recommend completing fire pit spaces with lanterns or bistro lights as well as baskets of throw blankets so you can stay cozy and comfortable late into the night. 
UMBRELLAS
Umbrellas are probably the most essential outdoor living items you can invest in. Whether you are lounging by the pool, dining on the deck, or hanging out at the beach, at some point you're going to want coverage from that unforgiving sun. We offer a variety of umbrellas for pretty much any need or use. 
Parasol umbrellas are probably the most popular and versatile umbrellas out there. With a center pole, they offer 360 degree coverage which is perfect for a dining table and pool chaises. 
The Tuuci Ocean Master Parasol is our most recommended parasol umbrella.  Its marine grade strength makes it durable enough to withstand the Vineyard's coastal winds and with proper care will last in pristine condition for years thanks to its weatherproof aluminum finish. 
The Ocean Master comes in a variety of machine washable Sunbrella fabric canopy colors.  We typically spec lighter colors in open spaces by pools or on beaches so you feel protected but don't keep out too much light. 
THE FUNDAMENTALS
We have outdoor lounge and dining options that are in-stock and available for delivery or pickup. Whether you are looking to entertain or enjoy the space yourself, our team will help you select furnishings to optimize your outdoor spaces.
Our stocking program offers the highest quality materials and designs to help you make the most of all this wonderful season has to offer. Let our Design Consultants help you design your outdoor oasis today! Many options are in-stock or already incoming so you don't have to worry about long lead times.